Johnsons Sleepy Time Baby Gift Set, 3 Items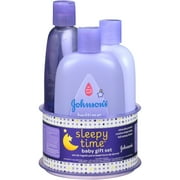 Johnson's Sleepy Time Baby Gift Set contains JOHNSON'S Bedtime baby bath, JOHNSON'S Bedtime baby lotion, and JOHNSON'S baby shampoo calming lavender. Johnson's Bedtime Routine is clinically proven to help baby fall asleep faster and stay asleep longer. Helps babies fall asleep up to 30% faster and be 58% less likely to wake during the night. Bath time is a perfect time to start your Johnson's Bedtime Routine. Begin with a warm bath, then a gentle, loving massage to help prepare baby for sleep. Finish with quiet time, cuddling, or reading a favorite story. This gift set includes information about how to download the free Johnson's Bedtime app, which provides expert sleep advice for your baby. Created by the #1 baby skin care brand around the world, this set makes a great gift for new parents.
* Pricing & Availability are subject to change at any time.