Equate Beauty Premium Wedge Applicator Sponges, 100 Ct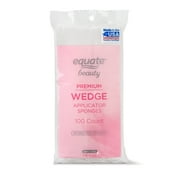 Made from high-quality, latex-free foam, Equate Beauty Wedge Applicator Sponges are suitable for the application and blending of liquid, cream and powder cosmetics. The combination of smooth surfaces, clean edges and precise corners makes them an ideal beauty tool. You can use the edges and corners for precision touch-ups and blending in small areas around the eyes and nose. The smooth surfaces allow for soft and even coverage over the entire face. These cosmetic sponges can be thrown away or washed and used again. Get the look you desire every time you apply your makeup with these easy-to-use, multi-purpose and disposable applicators. The convenient 100 count package provides you with an ample amount of beauty sponges to keep on hand.
* Pricing & Availability are subject to change at any time.