Equate Beauty Round Makeup Applicator Sponges, 12 Ct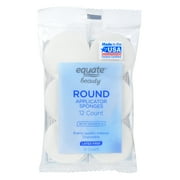 Made from high-quality, latex-free foam, round makeup applicator sponges are ideal for blending of liquid, cream and powder cosmetics. They are designed with a round edge in order to accomplish a perfect blend and flawless application of foundation. The broadest part of the round sponge can be used for applying foundation on the face and neck while the edges can be used to reach small places such as around the eyes and nose. These sponges can be thrown away or washed and used again. Get the desired look every time you apply makeup with these easy-to-use, multi-purpose and disposable applicators.
* Pricing & Availability are subject to change at any time.