Veridian Health Non-Contact Infrared Digital Thermometer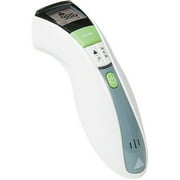 Take clinically accurate body and object temperature readings with the Veridian Health Non-contact Infrared Digital Thermometer. This thermometer lets you take safe, sanitary and non-invasive temperature readings. This Non Contact Infrared Thermometer also features a Fever Icon indicator to quickly identify high body temperature accurately with a wide range readout. The fever icon indicator in this Veridian Thermometer quickly identifies normal or high temps. This non-invasive thermometer has an illuminated screen for easy reading, so you can instantly get a read on your temperature. This non contact digital thermometer also maintains a record of the last 10 readings. This thermometer has an auto shut-off function to save power. This non contact infrared thermometer even has Fahrenheit/Celsius measurements. This thermometer comes with a leatherette drawstring storage pouch that makes keeping this thermometer safe and well-protected easy.
* Pricing & Availability are subject to change at any time.