Beats by Dr. Dre Pill 2.0 Speaker, Assorted Colors, Black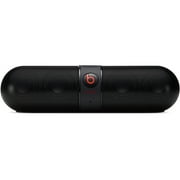 Pill's lightweight and portable design lets you bring the music wherever you go. Despite its compact size, the Pill produces powerful sound with soaring highs and deep bass to fill up any room. It connects to any Bluetooth-enabled device so you're free to let the music move you. New features include the ability to amplify or stereo your music, accessory charging and software updates straight to your Pill.
* Pricing & Availability are subject to change at any time.