"OxGord 48"" Heavy Duty Foldable Double Door Dog Crate with Divider and Removable ABS Plastic Tray, 48"" x 29"" x 32"""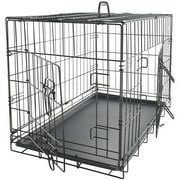 "These premium quality OxGord Metal Pet Crates are crafted using commercial-quality materials and superior manufacturing. They are built for long-lasting durability and security using an all-steel, high tensile-strength wire that is securely formed and welded into a tight mesh pattern. The crates feature multiple doors that lock easily with a slide-bolt latch. Finished with a durable black Electro-coat finish, these crates are rust, corrosion and fade resistant even in extreme climates. To set-up, simply unbox and fold open; no tools are required. Each crate features a lightweight, slide-out tray made of durable ABS plastic. With the rounded edges of the crates, your pet is contained in a safe environment where they cannot injure themselves on any sharp metal pieces. When not being used, the crates collapse into a package less than 4"" tall."
* Pricing & Availability are subject to change at any time.