Plano Sports & Outdoors Gun Storage 1312 Ammo Can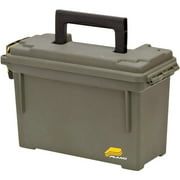 Carry your supply with confidence using the Plano 1312 Ammo Can. This strong, heavy duty container is ideal for hunting and boasts plenty of storage space. Whether you want to store bullets or any other essential item, the plastic ammo can features quality construction. The canister has a water-resistant O-ring seal, a heavy-duty brass latch with a strong handle and is wrapped in hefty plastic material. The unique slim, stackable Plano ammo box can easily fit into your vehicle. Be prepared your annual recreational trip with a device that will prevent storage woes and unexpected water damage to your prized calibers. This unit will easily convert to a fishing tackle storage box or even a household storage case and much more. Proudly show off your organized storage system and enjoy the convenience.
* Pricing & Availability are subject to change at any time.