Full Motion TV Wall Mount 10-50" TVs w/Tilt, Swivel Articulating Arm, HDMI Cable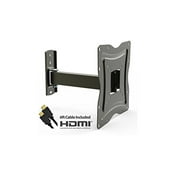 The Full Motion TV Wall Mount allows you to easily and securely mount your television to the wall in any room. It comes with a clear instruction manual and the mounting hardware to help you with the installation process.The full motion TV mount with HDMI cable is manufactured from solid, durable steel with a resilient coated finish. It articulates out from the wall from 2.0"to 9.06" and supports sets up to 66 lbs. The mount swivels left and right up to 180 degrees and tilts up five degrees or down 15 degrees to allow you the best view from your living space. It includes a bonus 6' 4K Ultra HD cable so you can watch your favorite shows and movies in high definition. The 10"-50" flat panel TV mount with tilt and swivel articulating arm has 75mm x 75mm, 100mm x 100mm, 100mm x 200mm, 200mm x 200mm VESA standard holes for easy use. It is tested for safety and UL certified. The mount comes in a neutral, black color.
* Pricing & Availability are subject to change at any time.