VTech Sit-to-Stand Ultimate Alphabet Train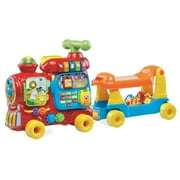 Hop aboard the VTech Sit-to-Stand Ultimate Alphabet Train for learning and fun. It is designed to grow with your child, allowing your child to use it for an extended amount of time. For the younger conductor, the VTech alphabet train can be used for floor play or as a ride-on that also transforms into a walker. When your little conductor gets older, the caboose converts into a wagon that they can fill with toys and pull along. The sit-to-stand alphabet train has so many games and activities while many of them have developmental benefits. There are 10 activities that involve learning letters, numbers and colors. The contrast of colors and bright lights found on the toy helps develop their sensory skills. Pushing, riding, inserting blocks and pressing buttons help develop their motor skills.
* Pricing & Availability are subject to change at any time.